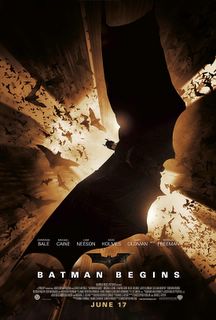 If you ask me which one is my favorite hero I would have said Batman! Yeah...you may surprise of the answer but yeah....the dark crusader under tha bat costume hehe....He's my hero...!!!
Well, Batman Begins really portray the real Batman that was originate in the comic. I would say that this movie version of Batman is the best ever...(compare to those Batman movies in the past :p) And yeah....the moral of the story still great to learn..!
What makes batman different from other superheroes is quite obvious...Batman has no special extraordinary power!! All he has is the passion to fight against injustice! As you watch Batman Begins, you will know where Bruce Wayne came from....the idea of finding a mean to fight injustice and turn fear against evil. Then here he become Batman....the hero who fight against crimes and evil in Gotham city!
There is a strong emphasis on fear in this show...Bruce Wayne learned to overcome his fear and turn it to fight against evil. He actually learn how to manipulate fear and use it as weapon against those criminals. How cool..
Yeah...i hope u guys enjoy the show... :)