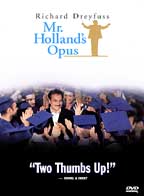 Some of you who know me well will know that I love movie. I'm a very Visual person, I learn best by seeing thing visually. Many times that I watch movie and then God speak to me. I don't know how many times that I cry when I felt God spoke to me about life purpose and the principle that He wants me to live on.... :P so I think it's good that I start to share some of the great show that I learn a lot out of it..
Mr.Holland's Opus
is the latest show I got to watch it..ya...it' not familiar name isn't it? Cuz' it's old show...very old show....It was released about 1995-6 around that. I just get to watch it and deeply move with the life principle in it...Really well written... Praise God... It's the story of a musician who turn to be a school music teacher. He end up teaching in school for the 2nd half of his life. Without knowing until the end when he about to leave the school. He has composed the great and awesome opus ever in his life...that opus is the different life of the students that has touched by him. He put so much effort to pass it on the love for music and the great values of life to this students..It's really inspiring..
The best part of the show that I felt touched so much are three scenes.
1. When Mr.Holland encouraging the red hair girl to play Clarinet without looking at scores. That day He had unvealed the true ability in that girl. it's such a revelation to her that she can do it and you know what, later on that girl become a governor of the state. Wow...!!cool.!!
2. Mr.Holland got a son who was born "deaf" Can u imagine? how difficult it is for Mr.Holland to embrace this son who won't be able to hear his music and may not love music as he wants him to be...I love the part when he realise that though Cole is deaf but he doesn't stupid to know about music...He could enjoy music through the vibration and some alternative ways. So he conducting a performance for the deaf school. He also sing a song to his son...That scene move me.....This is the heart of God who love me no matter what I am...He will do everything to impress me and show how much He loves me.
3. The last scene of the show is the best, when all the alumni come secretly to held a farewell for Mr.Holland....and the red hair girl (that now become a governor) give a speech to affirm Mr.Holland that every single person in this hall are lives that were touched by him...they're his music...they're his master piece...I totally cry...I wish I hope if it happen to be me...how would I response..?? My pray to God today is that, I want to live my life to touch lives. Either intentional or unintentional, I want to be the one who inspire, who bring a great impact into different lives. To challenge and help others to discover their life's purpose and journey with them...so that at the end of the day....God will tell me that I am a good and faithful servant...Use me Lord.....I'm willing...